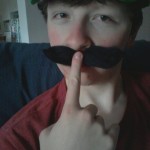 Going to university is much like going to high school or having a job of its own — except, at this job, your work doesn't finish when your contact hours end for the day. So, as most students know, there is usually little to no free time left when you factor in your lectures, tutorials and practicals (your contact hours) along with study, social time, any hobbies, commuting to the university and a little bit of rest and relaxation. Try fitting in a part-time job in there somewhere and, well…you almost have a recipe for madness!
Almost. Being able to cope with so much on your plate is all about time management and saying 'enough is enough'. It's something that I still struggle with a lot — a lot — but I'm always trying my best to improve. It's probably even easier for me, since I work for the university and can do hours here and there interspersed between lectures and tutorials. It does leave me with little free time when I'm not at uni, but at least it's efficient and I don't need to travel. Don't worry, I'm not trying to scare you away from getting a job, because it's awesome, maybe I'm just HORRIBLE at time management.
One 'tip' I can give is to make sure you don't take on too much work. In the holidays I was working for the Contact Centre, most days 9-5, and for some reason I still decided to take on the job of testing FedReady Online. Needless to say, trying to do both I crashed and burned, as I had little motivation at the end of the day to sit on the computer and try and take in content. So know your limits — if you are on the verge of starting to struggle with a part time job, know that you have to say no to any extra hours.
This applies to everyone who isn't currently working as well — it's all about where you feel comfortable. Maybe you are struggling with the coursework alone and need every hour you can get (without missing any relaxation time), and that's fine too! Obviously, another factor is if you need a part time job to support yourself, which is the case for a lot of students, and then working is unavoidable. In that case, I would just try and make sure to push hours with your employer that allow for study, rest, and most importantly, sleep. Don't think you are superman or wonderwoman — nobody can do everything at once, and something has to give eventually. If you are short on time, take a little out of everything — study, social life (if you are at the forefront of Wednesday or Friday night clubbing), and rest time — and you will find yourself sitting far more comfortably with how the weeks are going by.
There are some options around the idea of working and income while you study. If you haven't already, check out the CentreLink website to see if you are eligible for any sort of payment based on your independence, study location, or financial situation. If you need to work and the load is becoming too much, consider dropping your study back to part time (usually 2 subjects a semester), which allows you more time for work and other things. You can talk to your Course Coordinator or Faculty reception about that possibility.
The university has great services, too. Feel free to contact the Student Counselling service if you are having trouble coping with the load. Additionally, if you find yourself in a monetary jam, you can also contact Student Financial Support, which may be able to assist with budgeting, information and possibly even loans.
-Cam