Aaron 'The Azz Man'
Editor's note: Aaron wrote a bio for me, but then he said he wanted to know what I'd write for him, so here you go, Aaron. 
Aaron grew up in the Amazon rainforest, raised by a group of highly intelligent piranhas (He calls himself 'Azz Man' because it sounds so much like his home: 'Amazon'). Discovered by Napoleon Bonaparte on a secret expedition in 1792, Aaron was whisked away to Paris, where it was discovered that he suffered from a rare disease, preventing him from aging. As the years wore on, and he was forced to watch his friends die (dear Bonaparte being among the first to leave him) he found constancy and comfort in construction, and the ever-changing skyline of cities. Especially since most people wouldn't talk to him, because, after been raised by piranhas, he thought that the proper way to greet others was to bite them. Aaron travelled for decades, but his passion for structure only strengthened, leading him to finally pursue a Bachelor of Engineering at FedUni, of which he is now in his third year. He hopes to impart the wisdom of his centuries of survival to you all through his blog posts. He also thinks that he's hilarious.*
*None of this is true. Except the bit about him studying engineering. And he really does think he's hilarious. He said so in the bio he wrote for me. He also said that he could play guitar. I bet Bonaparte taught him that. That guy was a genius with a Gibson.
Amelia
Hi! My name is Amelia and I study Commerce and Management at FedUni, specialising in Accounting and Human Resource Management. I'm currently in my third year, and absolutely loving it! I love hanging out with my friends, vintage fashion, chocolate, and yes, I am a crazy cat lady. I also have lots of fun being a PASS Leader! I'm really excited about sharing some (hopefully totally awesome and rad) tips for uni success and survival with you guys!
Angel Richter
Hey I'm Angel and I am doing a Bachelor of Psychological Science.
So a paragraph about me…..hmm…
Well I moved from Queensland down to Victoria, where I had the genius idea to attend university in the Antarctic, I mean Ballarat. Needless to say I am not a fan of the near freezing temperatures! I regularly fly to back to Queensland when I have the time and money just to keep me sane. When I'm not at uni I enjoy playing sport, mainly netball and basketball a couple of nights a week and when I'm not being busy doing that, or studying I play call of duty zombies! Just cause zombies! I also love hanging out with my mates and just generally having fun whether it be while studying or when someone decides to do a 'uni family dinner and movie night'. Sooooooooooo that's basically me in a nutshell.
I'm thinking that I would like the ability to teleport whenever and wherever I want. I would choose this power because it would be incredibly time effective and cost effective. Think of how much time you spend walking or driving, this would no longer be a concern, feel like going to Queensland to a friend's place for dinner? Blink of an eye and you're there! I would never have to pay for petrol or flights ever again! I feel like this is an awesome and necessary power and now after thinking about it, I really, really want it!
Bella
Hello FedUni Friends!
I am a Mt Helen Student Academic Leader (SAL) and a Biomedical Science Honours student. My honours project is on improving lung cancer diagnostics
through a breath analysis clinical trial. I'm doing Medicine next year and will become a rural doctor so look out disease, you going down! I live and breathe the saying "if you want something done, ask a busy person" which means I've always got a long list to do but that's the way I like it. I love helping students have a wonderful time at university so come and visit me at the ASK service.
Doug
I'm a second year Bachelor of Psychological Science student, with a double major in Philosophy and Psychology.
Prior to studying I was School Captain of my high school, which I dropped out of four weeks before I finished to undertake a hairdressing apprenticeship; where my bosses where highly supportive of me changing direction to undertake further education. My ultimate intention regarding university studies is to work as a lecturer.
Outside of university I don't do that much. I'm an avid reader and eat too much pizza. I have done five years of martial arts including Muay Thai, MMA and Jiu-Jitsu, and have had 3 professional fights. Idk if that's a "short" paragraph but it'll do.
Superpower-wise is a bit of a tricky one, as there are so many to choose from. But I'd have to mimic Frozone from 'The Incredibles', but probably wouldn't be saving the world with it and instead I'd make my drinks really cold or something.
Eric
I'm in my third year of Civil and Environmental Engineering at the Gippsland campus.
Hmmmm….what to write? First off, before Ryan (or Hayden, or Aimee, or anyone else) makes a point of mentioning it, these days I happen to be the face of FedUni when anyone goes to the website, or watches tv, or reads the local paper.  Now that I've got that out of the way, let's get to the important stuff.  I'm 35, which makes me mature-aged (though not necessarily mature) and I come from the far off exotic land of Canada.  I've lived in Australia for 6 years now with my gorgeous wife of 3 years and our 2 cats, 6 chickens and 6 alpacas. I think that's about it, but feel free to ask for an autograph if you see me in the hall.
**If you're wondering where I got the photo from, I just took a screenshot of the website. Thanks Aimee for the suggestion.
Hayden
I am a mature age student who is currently studying Civil and Environmental engineering.  I am 34 and have a wife and 2 kids aged 4 and 16.  I am kept very busy from everything I get involved in.  I currently am a Mentor and PASS leader at University, and the Gippsland campus coordinator for Engineers Australia. I am very fortunate to have landed a work placement after my first year as an Assistant Project Engineer with the Department of Environment, Land, Water and Planning.  I also am very passionate about organic foods at wholesale prices and I am the administrator for the Gippsland Organic Food Co-op on Facebook and I volunteer a lot of my time to this.  Last year I was fortunate enough to get the Hero award for Volunteering so yes guys I am a hero.  I am currently studying two certificate IV in frontline management and marketing just for fun.  Also I am doing my second degree concurrently with my engineering but it is in Information Technology (Computing studies). When I am not doing all that I have just started playing Gridiron for the Gippsland Gladiators and I also will be umpiring on a Monday night for the successful 6 on 6 soccer competition run at Gippsland campus.  If you are wondering, I do also spend some time with my family as well and I get some sleep in there too.  Hope I haven't bored you too much and I look forward to posting some pearls of wisdom for everyone!
Mary
G'day! My name is Mary, I am now doing my Honours after completing my undergraduate in Bachelor of Arts (International Studies). I majored in Japanese
language– absolutely love it! I also know some Spanish and Auslan. The other love in my life is sport, in particular ultimate frisbee—– yes, this is a legit sport, seriously, YouTube it!
 And I have recently discovered the sport of Quidditch (yes, another random sport which you can play!) which had been great for my love of Harry Potter ♥
Melina
Hola, I'm Melina (AKA Cpt.Awesome, AKA Master Ninja) and I'm doing a Bachelor of Psychological Science with a minor in criminology at Gippsland.
Before uni in high school I was School Captain and President of the SRC, took a refreshing Gap year and did a pre-apprenticeship in carpentry (i was bored), worked for a special unit of the police as an unsworn and have spent the last few months planning my 1920's themed murder mystery 21st birthday. I am a volunteer fire-fighter and adore snowboarding and camping. Hate pizza (soznotsoz),  love puns and can sing Anaconda really well although hate the fact that I can do so. I have a forever kitten (she stays tiny) and she can sit, come to her name and fetch very well. 
My chosen superpower would be similar to the Avatar which is to be in control of the elements, if however that is too 'godlike' , i would go with mimicry and absorb other peoples powers and use them for my own. And yes I'd turn evil and take over the world. Why not?
Pat
Hey everyone, my name's Pat. Get excited. I am currently in my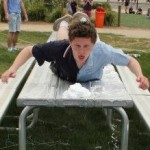 third year of a bachelor of mining engineering at FedUni and really enjoying it. This year I'm also a student mentor and a PASS leader. Outside of Uni, I love spending time with friends and going out on Wednesday nights (among others). I play a bunch of sports such as soccer, tennis and touch rugby and I even play the drums. As well as all those stuff and things, I'm also writing some things and stuff in this here blog (I abhor writing so y'all should feel privileged). So keep an eye out and you might just get to read some pearls of wisdom from this guy *points thumbs at self*.
Renee
Hi everyone my name is Renee and I'm studying a Bachelor of Psychological Science at Gippsland.
I have lived on a dairy farm my whole life and my family and I show dairy cows locally and at the Royal Melbourne Show. I am a dairy cow person and hate anyone with horses or beef cows. No seriously, I am unable to be your friend if you are a horse or beef person.
If I could have any superpower it would be to teleport so I could pop up anywhere and scare people. But it would also come in handy because I hate driving.