'Weim – a – what' is the response I get every time I tell someone I'm getting a Weimaraner. The first thing my mum said to me was "umm have you been to the doctor for that?". Ahh, what? Awkwarddd. No mum, a Weimeraner is a dog! One of the cutest dogs in the whole entire world. *insert high pitched voice* Just look at how cute they are…
All above photos from https://au.pinterest.com/explore/weimaraner-puppies/
Well, I got to admit, I did the whole 'weim – a – what?' thing when my boyfriend, Aaron, first asked me if we could get a Weimaraner. Well let's be honest here: he didn't ask me, he told me. He let it slip that he already paid the deposit! Well played, Aaron. Well played…
I was absolutely freaking out!  Especially since we had already discussed about filling our house with miniature dachshunds and naming one 'Mini'. Oh, look, another cute dog picture…
Picture from http://www.petsionary.com/2017/03/miniature-dachshund-puppies/
I was totally shocked to see the size comparison between a mini-dachshund and a Weimaraner. A fully-grown dachshund is a four-week-old Weimaraner. That's crazy! And what makes things even worse is that I HAVE NEVER OWNED A BIG DOG BEFORE. Yes, yes, I grew up on a dairy farm, but we had Jack Russells!
My parents/younger brother decided to buy 2 new kelpies a couple of weeks before I moved out, so I didn't really experience living with a big dog (even though as puppies they still aren't that big). But clearly, we all know who the favourite child is…Still can't believe they bought 2!
It took me about a total of 23 minutes to get over the whole size difference and the fact that Aaron had already paid the deposit for the dog without telling me. But still. Really, Aaron? Really?
But I was so EXCITED to get a dog! Weimaraner are happy, loving, intelligent and affectionate doggies and I can't wait to own one. Its currently 21 days, 2 hours and 54 minutes till I meet my little puppy. Not that I'm counting or anything…
I think, eventually, we will add little mini-dachshunds to the house. They can be bestfriends — just like 'HarlowandSage'. Now these are some serious cuties: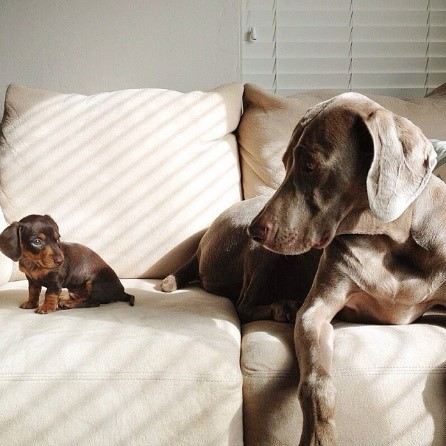 All above photos from 'HarlowandSage' Instragram.
 – Renee
Edit: Since writing this post, Renee has now met her adorable puppy, and she has sent two photos to include.